Message from the CEO for those considering joining BMW Motorrad Club Japan.(Message from the CEO:Katsunori Namikawa)
Thank you very much for visiting the BMW Motorrad Club Japan (BMCJ) website.
As you may know, BMCJ functions as one of BMW AG's accredited international clubs—clubs with a long history and tradition. We continuously strive for increased quality based on member ownership of the club .
We will continue to earnestly strive to improve our member services with efficient use of our limited resources. Club members get access to our various road services, theft insurance, a club magazine and more. In addition, as a part of our services from this year and in collaboration with BMW Japan, we will resume offering rider's training, now in a new format to serve a wider range of riders. BMCJ will continue to offer rider's training as a club service. Our training is sure to let you experience the splendor of the safety and performance of BMW motorcycles.
We also gather our national members once a year for our annual National Rally. This year, we have settled on the Noto Region in Ishikawa Prefecture as our destination. Details will be updated periodically on this site. There are also various events planned and organized by member volunteers in our regional blocks where you can register for membership. We hope that you will register for BMCJ membership and come out to join us in Noto.
In addition, from this year, we will be trying to step up our international activities through the worldwide club organization network. At first we will be supporting riders looking to touring Europe, while also looking to mutually accept any foreign touring riders as well .
Finally, we are currently considering a radical transformation of our operations to a more stable club system for all of our members. We will continue to plan various programs and support club members in their riding. I hope you will join us.
BMW Motorrad Club Japan CEO
BMW Motorrad International Instructor ID No. 0343N
 Katsunori Namikawa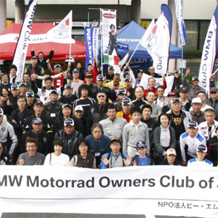 BMW Motorrad Club Japan is a nationwide organization for BMW motorcycle enthusiasts in Japan. We are an official club, recognized by the BMW Club International Council and BMW AG (Germany).

We look to pass the joy of motorcycles onto others, sharing a rich motorcycle life with fellow riders to promote the motorcycle and rider culture in Japan. We are actively engaged in fellowship with BMW owners in Japan and worldwide, as well as social contributions including awareness activities for riding safety, rules and manners, rider training, motorcycle theft prevention and first aid training.


BMW clubs are non-profit organizations for owners of BMW vehicles which aims to foster an understanding of BMW history, as well as hold meetings and social gatherings for like-minded individuals. Established by BMW AG (Germany) in 1962, there are currently 270 BMW clubs worldwide with close to 200,000 members. In 1979, the BMW Clubs International Council was established as an organization to unify all the BMW clubs scattered about the globe. Our club belongs to the Asia-Pacific and Africa section.

1995:

BMW Motorcycle Owners Club Japan branch established

2001:

Start of international meets, including international touring in Europe and South Korea

2002:

Held Riding Rules and Manners Festival with help from Japanese government, police and fire departments
With an increase in motorcycle and scooter theft, organized a boycott campaign in illegal export destinations

2004:

Certified and registered as an NPO and established the BMOJ NPO

2007:

In accordance with BMW AG worldwide branding as BMW Motorrad, BMOJ changes its name from BMW Motorcycle Owners Club of Japan to BMW Motorrad Owners Club of Japan

2009:

Together with guideline changes at the BMW Clubs International Council, the club logo is updated from BMW Motorrad Owners Club of Japan to BMW Motorrad Club Japan

2014:

The BMOJ NPO is incorporated as a foundation, named the BMW Motorrad Club Japan